Roger Burge
Owner & President
From the moment Roger caught his first fish with his father he was hooked. He has been a passionate, conservation-minded outdoorsman from an extremely young age. Growing up fishing and hunting in the outdoors with his family, he also developed a keen curiosity for environmental sciences, and a deeper need to responsibly manage our natural resources. This drive led to him earning a BS from University of Georgia, beginning his career in pond and lake management in 2005. His career path eventually led to founding Georgia Plantation Solutions in 2010. Over the last 13 years he has been fortunate to work with some amazing people and properties throughout Georgia and South Carolina. Helping people solve problems and enjoy the outdoors remains the driving force and mission for his business.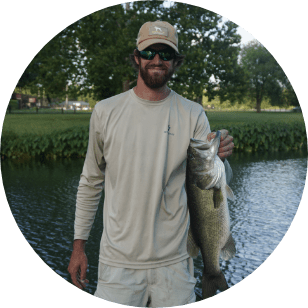 Wesley Mullins
Field Operations Manager
Wesley Mullins graduated from Armstrong State University with a BS in Biology. Over the course of four years at Armstrong he took classes pertaining to fisheries management, and also completed an internship program with the Georgia Department of Natural Resources. While interning with the DNR at the Richmond Hill Fish Hatchery, he gained knowledge relating to fish spawning, hauling, and stocking techniques. He has always been a passionate bass fishermen, propelling him to pursue a career in pond management. Wesley has been a vital team member of Georgia Plantation Solutions since July 2016. Taking pride in his work, he always gives his best effort with the customers' interest in mind.